Laois close to QF, Kerry beat Westmeath
All four teams will go into the final weekend of games in the Leinster round robin series with aspirations of reaching the knockout stages of the Leinster senior hurling championship, with wins for Kerry and Laois today.
Kerry held on in the face of late Westmeath pressure to record a crucial 0-20 to 2-12 win over their hosts at TEG Cusack Park in Mullingar this afternoon, while Patrick Purcell fired a remarkable 3-06 as Laois coasted to a 15-point victory over Meath at Pairc Tailteann.
By Kevin Egan
Kerry bounced back from last week's reversal to Meath, and settled to the task with the aid of a strong first-half breeze.
The Kingdom wasted no time in surging into an early lead, rattling off seven points in the opening 10 minutes to rack up an 0-7 to 0-3 lead.
They were handed a further boost when Westmeath lost their talented full forward Niall O'Brien to a second bookable offence in the 15th minute, and while some errant shooting prevented them from fully capitalising on the breeze, manager Fintan O'Connor will have been delighted to go into the dressing room with an 0-12 to 0-5 interval advantage.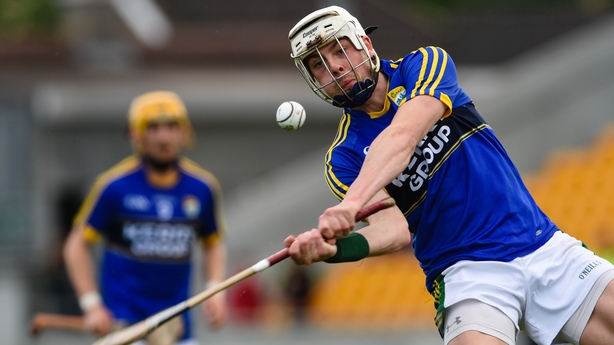 The home side made a bright start to the second half, posting the first two points after the break, but they struggled to contain the lively Kerry forwards, particularly Mikey and Pádraig Boyle, who racked up 0-7 from play between them.
Shane Nolan fired over a string of frees and while the midlanders were handed a lifeline when Niall Mitchell found the net after 53 minutes, it wasn't until the closing moments when a second goal was added by Killian Doyle from a penalty that they really looked capable of snatching a result.
Both sides finished with fourteen men after Jack Goulding joined O'Brien on the sideline following his second booking, but despite this Kerry's defence held firm and prevented Westmeath from finding their much-needed third goal.
Westmeath: P Maloney; C Shaw, T Doyle, T Gallagher; G Greville, P Greville, A Clarke; C Boyle, J Boyle; A Devine (0-08, 0-06 frees, 0-01 '65), K Doyle (1-02, 1-00 pen, 0-01 free, 0-01 '65), R Greville (0-02); N O'Brien, N Mitchell (1-00), D Egerton. 
Subs: J Galvin for J Boyle (HT), D McNicholas for Egerton (HT), A Cox for G Greville (43)
Kerry: M Stackpoole; J Buckley, R Horgan, S Weir; J O'Connor (0-01), D Dineen, T Murnane; J Goulding (0-01), P O'Connor (0-01); J Conway (0-02), M O'Leary (0-01), B O'Leary; P Boyle (0-03), M Boyle (0-04), S Nolan (0-07, 0-01 '65, 0-04 frees).
Subs: J Griffin for M O'Leary (64), M O'Connor for P Boyle (67), K Carmody for B O'Leary (70+3)
Referee: Paud O'Dwyer (Carlow)

By Paul Keane
Patrick Purcell fired a remarkable 3-06 as Laois took a giant step towards the Leinster senior hurling championship quarter-finals.
Purcell was on top form at Pairc Tailteann and dovetailed superbly with fellow midfielder Ross King who also weighed in with 0-11, taking the duo's tally to 3-17, 3-10 of which came from open play.
The Royals were hunting back to back wins themselves after surprising Kerry in Round 1 in what was their first provincial championship game since playing Laois way back in 2004.
But after an evenly contested first 20 minutes that saw the sides locked on 0-05 apiece, Laois took off and surged to a massive 15-point half-time lead, all but securing the win.
Purcell was terrific from the off and was unlucky not to claim four goals by half-time as he also drew a terrific save from the Meath goalkeeper.
Laois wrap up their qualifier group campaign against Kerry in Tralee on 14 May and will be confident of progression to face Wexford or Offaly in the Leinster knock-out stages.
As for Meath, all is not lost though they will need to overcome Westmeath in Mullingar on the same date to keep alive their own hopes of progression.
The big win was all the more impressive from Laois as they lost experienced defender Cahir Healy to an apparent hamstring pull after just 14 minutes.
Meath were similarly without captain and full-back Damien Healy due to his own hamstring complaint which forced him out early in last weekend's tie against Kerry.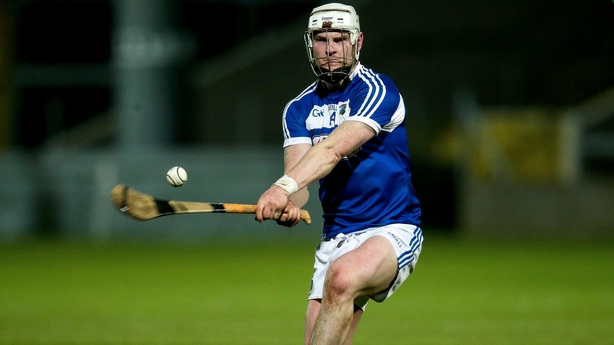 Meath approached the game with momentum after winning all of their previous League and Championship games and held their own early on.
The sides were level four times up to the 20 minute mark but Laois, and Purcell in particular, moved into overdrive between there and half-time.
Neil Foyle, one of three late additions to the Laois team, fed Purcell for 21st and 34th minute goals while the Rathdowney-Errill did it all himself for the second goal, flicking the ball out of a crowd into space and soloing clear.
Laois led 3-13 to 0-7 at half-time and stretched the gap to 16 with another King point after the restart.
Meath, realistically, were playing for pride and showed their heart with a 40th minute goal from sub Neil Heffernan when he was picked out with a brilliant crossfield pass by Mark O'Sullivan.
Joey Keena pulled back a second goal in the 54th minute but even that only reduced Meath's arrears to 11 points.
Laois pulled clear again late on with six points in a row to wrap up the win at their leisure.
Laois: E Rowland; L Bergin, C Healy, D Palmer; M Whelan, C Collier, L Cleere; R King (0-11, 0-06f, 0-01 65), P Purcell (3-06); S Downey (0-01), C Dwyer, S Maher; W Dunphy (0-01), P Whelan, N Foyle (0-02).
Subs: B Conroy (0-01) for Healy (14), A Dunphy (0-01) for Whelan (48), A Corby (0-02) for Foyle (60), E Killeen for Dwyer (63), S Bergin for Maher (67).
Meath: S McGann; S Whitty, S Brennan (0-01), C Reilly; S Geraghty, K Keoghan (0-01), D Kelly; A Forde (0-01), J Keena (1-00); S Quigley (0-01), S Clynch (0-06, 0-04f, 0-0165), J Kelly; G McGowan, M O'Sullivan (0-01), A Gannon (0-01).
Subs: N Heffernan (1-01) for Quigley (h/t), K Keena for McGowan (h/t), C McCabe for Kelly (59), P Farrell for Clynch (60), D Reilly for O'Sullivan (65).
Referee: J Keenan (Wicklow).