All you need to know about the Leinster SFC
Fixtures
Saturday: Wexford v Laois, Innovate Wexford Park, 6.30pm
Sunday: Carlow v Louth, O'Moore Park, 2pm – Offaly v Wicklow, O'Moore Park, 4pm
Online
Follow live updates on RTÉ.ie and the RTÉ News Now App on all three games. 
Radio
Live commentary on Wexford v Laois from Pauric Lodge and Martin Carney on Saturday Sport Extra, RTÉ Radio 1. Live updates on Carlow v Louth and Offaly v Wicklow from Pat McAuliffe on Sunday Sport 
TV
Highlights of the three matches, along with all the weekend's action on The Sunday Game, RTÉ 2, from 9.30pm. 
Past 5 Championship Meetings
Wexford v Laois
2014 Laois 0-18 Wexford 0-17 (Qualifier)
2013 Laois 0-16 Wexford 2-8 (Qualifier)
2008 Wexford 0-18 Laois 0-12 (Leinster semi-final)
2007 Laois 1-13 Wexford 0-13 (Leinster semi-final)
2003 Laois 1-19 Wexford 0-10 (Leinster 1st round)
Carlow v Louth
2016 Louth 2-24 Carlow 3-11 (Leinster 1st round)
2011 Carlow 0-14 Louth 0-13 (Leinster quarter-final)
2009 Louth 1-13 Carlow 1-11 (Leinster 1st round)
1997 Louth 1-13 Carlow 1-10 (Leinster quarter-final)
1994 Louth 3-19 Carlow 0-11 (Leinster quarter-final)
Offaly v Wicklow
2014: Wicklow 3-12 Offaly 0-17 (Qualifiers)
1997: Offaly 1-17 Wicklow 1-8
1994: Offaly 3-11 Wicklow 0-14 (replay)
1994: Offaly 1-9 Wicklow 0-12
1977: Offaly 0-19 Wicklow 0-7
Form Guide
Wexford v Laois 
Both are under new management this season, with Paul McLoughlin in charge of Wexford and John Sugrue at the helm in Laois.
Wexford were the lowest scorers in Division 3 this year, accumulating 8-67 (91 points in seven games en route to relegation). Laois scored a total of 7-100 (121 points) in an unbeaten Division 4 campaign. The winners play Westmeath in the Leinster quarter-final on the weekend of 26/27 May.
Carlow v Louth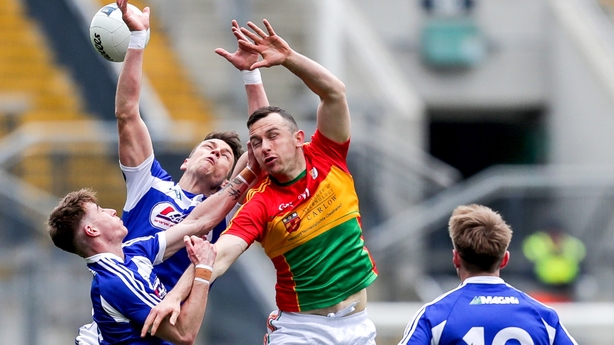 Turlough O'Brien is in his fourth season as Carlow manager while former Down and Fermanagh manager, Peter McGrath is in his first season with Louth. Louth (Played 7, Lost 7) were relegated from Division 2 in this year's league while Carlow (Played 8, Won 6, Lost 2) were promoted from Division 4.
Louth were the lowest scorers in the top three Divisions in this year's competition, totalling 1-73 in their seven games. The winners play Kildare in the Leinster quarter-final in two weeks.
Offaly v Wicklow
The Faithful County may have survived in Division 3 this term, but there wasn't a lot to get excited about in terms of their performance throughout. Stephen Wallace is the new Offaly boss, while Wicklow also welcomed a fresh voice in the shape of the much travelled John Evans from Kerry. Evans, however could not inspire the Garden County to do anything enticing in the depths of.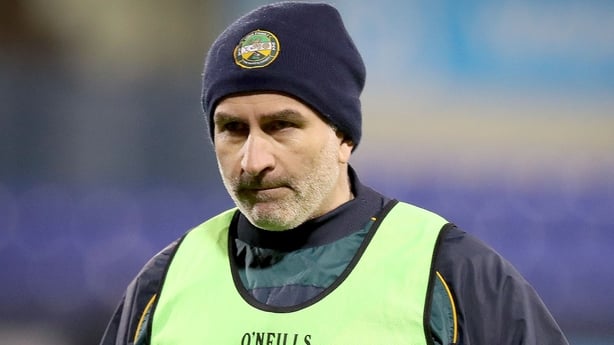 Offaly have won only one Leinster championship game (v Longford in 2016) since 2007. They lost their first outings to Westmeath (2008 and 2017), Kildare (2009), Meath (2010), Wexford (2011), Kildare (2012- 2013), Longford (2014 and 2015).
Wicklow are seeking their first win in the Leinster championship since 2013. Since then, they have lost their first games to Laois (2014-2016), Meath (2015), Louth (2017)
The prize for the winners is a date with Dublin in a fortnight's time.  
Teams
TBA
Wexford v Laois 
"These are two teams swapping divisions in the League.
"Laois are going to Division 3 as champions, with ambition under John Sugrue. I think he's done a great job up there so far.
"Wexford dropped to Division 4 after winning only once this season, while Laois are well used to winning at the moment. They're getting the basics right and I think they'll come out on top."
Carlow v Louth 
"Louth had a horrific National League, winning nothing and conceding 12 goals along the way.
"No matter how positive Pete McGrath is trying to be, it's going to be a really tough match for them.
"They were Division 2, Turlough O'Brien's outfit were Division 4 but I think Carlow have a great chance of winning this."
Offaly v Wicklow
"Offaly finished strongly in Division 3. They won their last two games after a very poor start to the season.
"Wicklow were bottom of Division 4 with no wins and on that basis, I'd go for Offaly."
Weather
Saturday: A bright and sunny Saturday morning with just the odd shower; the showers will become more widespread and heavier during the afternoon and evening. Highest temperatures of 11 to 14 degrees in light breezes. Sunday will start mainly dry and bright with some sunshine. However, showers will develop again in the afternoon and a few will be heavy. Highest temperatures of 12 to 14 degrees in just light breezes. For more go to met.ie.